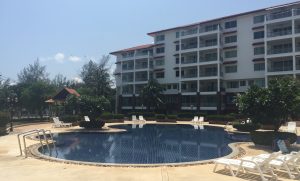 In order for us all to enjoy our stay at Seaview Condominium it is important that we all follow the pool/house rules.
Pool rules
1. The pool is open 06.00-22.00 – outside these hours the pool will be cleaned and the water purified.
2. Only proper swimwear is allowed in the pool. Children using diapers shall use specially adapted swimwear.
3. Everyone shall shower before EVERY entry in the pool in one of the pool area showers.
4. It is forbidden to eat and drink in the pool.
5. Bottles, glass and similar fragile items are completely prohibited in the pool area.
6. It is forbidden to throw stones in the pool – parents are responsible for their children.
7. Reservation of sunbeds is not allowed when leaving the pool area
8. Restore tables and chairs to their original positions and remove your belongings and garbage when leaving the pool area.
9. Diving from the pool edge is discouraged due to the depth of the pool
10. Please show respect for other visitors in the pool area. Use of large inflatable toys should be avoided when the pool is crowded.
11. All smoking is prohibited throughout the entire pool area
House rules
1. Smoking is only allowed by the smoking sign at the bicycle parking.
2. Conversation tone and music outdoors shall be subdued after 22.00 hours.
3. All vehicles shall be parked according to the signs. Respect the parking space allocated for people with disabilities.
4. Exterior corridors, stairways and lifts are not a playground.
5. No textiles may be left hanging over the balcony railings.
HAVE A PLEASANT STAY AT SEAVIEW CONDOMINIUM
Sincerely
Board of Directors